As always, we're here to present you with a traditional monthly digest with hand-picked news about the AR/VR industry. As well, today we will discuss new tools and devices and some other facts – we filter a large stream of resources to bring the most exciting pieces to you every month. 
 Subscribe to keep a hand on the AR/VR market or just find something entertaining.
Digit of the Month
While Facebook pays out a lot of money for metaverse, several startups still develop solutions for simple everyday needs. Dent Reality startup presented the technology for localized mapping in grocery stores. The Augmented Reality platform allows customers to find specific items on shop shelves by creating a map track on the phone.
News: 
On October 19, the company gathered a group of panelists to discuss what impact AR/VR solutions have on the future of education. The speakers shared their personal views and cases from their professional experience.
Thanks to Sergei Vardomatski, founder of HQSoftware and the creative force behind this panel, this event brought together some of the brightest minds in the industry.
Ultraleap – the leading hand-tracking company – has raised an $82 million investment for enhancing its hand-tracking and mid-air haptic tech in the XR space.
Japanese Virtual Reality startup Hikky has got $57 million of investments for the future development of its VR e-commerce and event services. The company builds its own platform Vket Cloud VR which provides open metaverse content available for all users without special requirements for their computers and browsers.
The ambitious plans of creating a metaverse from Meta company are going to mass through physical stores. The company's intention to create its own retail stores will allow people to try AR and VR headsets in a broad space and assess their potential.
Moreover, the company is working on some new products in addition to the VR system Oculus Quest 2 and camera glasses, which are being produced in cooperation with Ray-Ban Stories.
Business Value of AR in Media & Entertainment
How do modern businesses use AR to increase their revenues and outperform their industry competitors?
At AWE 2021, Qualcomm announced an XR development platform – Snapdragon Spaces. This is a head-worn AR software suite that the company uses for building smartphone-tethered AR glasses.
The company hopes that this software toolkit will give AR developers a good starting point for building AR solutions.
The startup Magic Leap collaborates with Geopogo – a 3D design software company based in California. The companies will create an AR solution that allows designers and architects to visualize projects to can cooperate, design spaces, and make presentations for the clients.
Video of the Month:
The company Vicarious Surgical has presented a small surgical robot that is controlled by a surgeon in a VR helmet.
Tools & devices:
Varjo is a hardware and software developer mostly famous for its XR-3 headset. And in addition to the headset's color cameras, high resolution, and a wide field of view, Varjo has developed a new killer feature – using the headset, users can convert real objects into virtual ones.
Lynx is a french startup that builds a one-of-a-kind headset capable of both VR and passthrough AR. It has passed its initial funding goal in under 15 hours!
The ultimate goal of the company here is to build full-fledged AR glasses for everyday use and, of course, to enter the metaverse.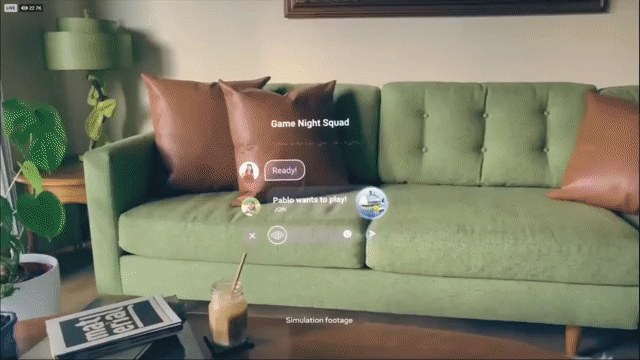 Recently Meta has revealed one of its new VR prototypes – haptic gloves designed to give wearer sensations that mimic the weight and feel of real objects when the user interacts with them in a virtual space.
But, there is a scandal around Meta's new gloves already – HaptX says that Meta copied its patented design of the glove. "We welcome interest and competition in the field of microfluidic haptics; however, competition must be fair for the industry to thrive," said HaptX founder and CEO Jake Rubin.
Subscribe to receive digests monthly!
AR/VR Expert
A developer with extensive expertise in AR/VR, very ingrained into the topic of Mixed Reality development. Shares his knowledge and the results of many years of work.
Free VR Prototype by HQSoftware — New Opportunity for Our Clients
AR/VR Ideas for Corporate Events
What is a Virtual Store? Exploring Benefits and Use Cases
Business Value
of AR in Media &
Entertainment
Business Value of AR in Media & Entertainment
How do modern businesses use AR to increase their revenues and outperform their industry competitors?
Download the whitepaper
Kick Off With Your Project Today
Let's talk about your business needs and figure out the best solution. Just fill in this form and get a free individual proposal from your personal manager.
Sergei Vardomatski
Founder